STRIKE BACK
Season 2: Eps 7 & 8
Season 3: Eps 3 & 4
Season 4: Eps 5 & 6
Season 7: Eps 3 & 4
Season 8: Eps 1 & 2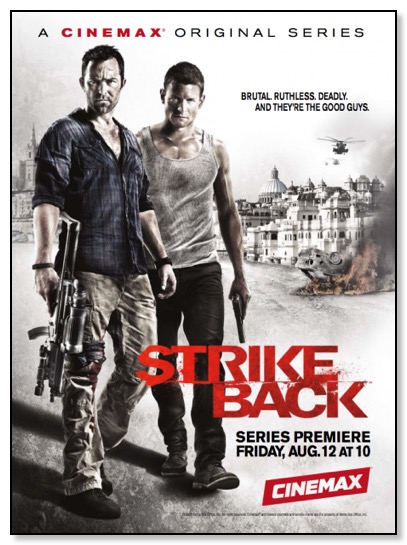 Strike Back 2: Eps 7 & 8
(2011)
Director: Paul Wilmshurst
Producers: Michael Casey, Sue de Beavoir
Writer: Simon Burke
Exec: Andy Harries
DoP: Mike Spragg
Editor: Tim Marchant, Xavier Russell
2 x 60 mins, 35mm
HBO & SKY
with Philip Winchester, Sullivan Stapleton, Amanda Mealing, Michelle Lukes, Rhashan Stone, David Haig, Annabelle Wallis, Dorian Lough, Adrian Rawlings, Gillian Hanna, Mel Raido, Matthew Leitch, Zsusza Simits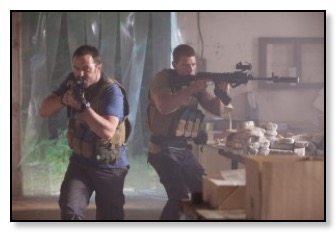 Adrenaline fuelled action series originally based on the international best selling book by ex-SAS veteran Chris Ryan. Strike Back: Project Dawn is a breathlessly tense, smart and sexy adventure. Across five stories, Scott and Stonebridge plunge into a terrifying siege in a Delhi hotel; mount an undercover operation to derail a weapon heist in Cape Town by a ruthless former IRA operator; take up arms against a ferocious Sudanese militia to rescue a British aid worker; track a treasonous spy in a savage Balkan gangster state; and finally, race to stop a huge-scale double suicide bomber attack in Budapest, orchestrated by the ingenious, merciless Latif. As Section 20 finally confront their nemesis, prey becomes predator in a staggering series climax... Episodes 7 & 8 are set in Kosovo, as Section 20 negotiates the release of five European Union officials taken hostage by Kosovan weapons, drugs and human trafficker Hasani (Mel Raido). One of the hostages is undercover MI-6 terror expert John Allen (Adrian Rawlins), identified as Latif's (Jimi Mistry) inside man. When the exchange doesn't go as planned, Stonebridge and Scott are stranded with the hostages and surrounded by Hasani's forces.
Last year, Sky brought to life one of Chris Ryan's in-flight bestsellers, the Special Forces saga Strike Back. It wasn't bad. Lots of gunfights. Lots of brooding from Richard Armitage. Lots of guilt from Andrew Lincoln. This year Cinemax, the HBO subsidiary catering exclusively to consumers of explosions and boobs, took its first steps in the original programming business by becoming a co-producer of Strike Back. Here's how things changed: season one of Strike Back began with a chaotic military operation in Iraq. Season two (Strike Back: Project Dawn) starts with Richard Armitage being executed, cuts to a Malyasian brothel, then a naked kickboxing stand-off before culminating in a brutal street fight where the series' new co-leads insult each other while blasting off the limbs of their opponents. It's awesome! Everything that's capable of exploding explodes. What was a decent but unexceptional military action show is now Naked 24. Not every show can or should be lobotomised quite as entertainingly as Strike Back, but if this is an example of how an American network can elevate a British product, I say give them Hollyoaks.

The Guardian
I don't want to jinx it, but does anyone else think that Strike Back has finally hit its stride? After last week's quite enjoyable episode, this one was even better. No one's more pleased or surprised than me, I tell you. It was still quite silly, mind, but the story of Scott and Stonebridge trying to get a bunch of hostages (and Latif's MI6 mole) out of a forest and away from Kosovan gangsters was well-executed and the boys finally seemed to have settled into a fun kind of groove.
Their lines were amusing, their camaraderie believable and their refusal to stick to any plan handed down from on high entirely sensible, seeing as somebody on high is clearly on the take. I kind of think it might be Sinclair now. It's ok to make fun of Scott - I mean, he makes it so easy - but not trusting him? Dude. Surely he's taken enough bullets and enough flak, and saved enough asses to earn just a little faith by now?

Unpopcult


Episode 8 is a welcome change up, with the straight-ahead structure of a classic adventure story – of a Western, in fact, in which two veteran wilderness scouts escort a group of stranded pioneers through injun territory to the safety of the nearby fort.
In a story set in ultra-corrupt post-Soviet Kosovo, though, it's a little harder to tell the white hats from the black. The cavalry officers who come riding up on their noble ATVs may not want to rescue you after all. They may be looking to slice out your liver for sale to the highest bidder. The "Dexter meets X-Files sequence in which in which a group of mercenary surgeons gear up to extract salable body parts is an all-too plausible horrorshow.
The two leads were impressively coordinated partners last time, but now they've been separated and Episode 8 is a Damien Scott special, the one we've been waiting for, in which a willowy blonde touches him so deeply that he decides not to go to bed with her. Scott also comes a step or two closer to unraveling the conspiracy that that he caught wind of in Iraq, the secret that got him cashired.

Indiewire
read reviews of the whole series
read blog about Ep 7
series renewed and Ep 8 reviewed
Strike Back 3: Eps 3 & 4
(2012)

Director: Paul Wilmshurst
Producers: Michael Casey, Chris Clough
Writer: James Dormer
Exec: Andy Harries
DoP: JP Gossart
Editors: Xavier Russell, Andrew McCritchie
2 x 60 mins, 35mm
HBO/Cinemax & SKY
with Philip Winchester, Sullivan Stapleton, Saïd Taghmaoui, Laëtitia Eïdo, Farid Elouardi, Omar Berdouni, Michelle Lukes, Liam Garrigan, Rhashan Stone, Charles Dance, Vincent Regan, Natalie Becker, Stephanie Vogt

British Special Forces Sergeant Michael Stonebridge and US ex-Delta Force commando Damien Scott are thrust back into the field at the orders of maverick new Section 20 commanding officer, Major Rachel Dalton. When enigmatic billionaire businessman, Conrad Knox resolves to play God with the future of Southern Africa using weapons stolen from the crumbling regime in Libya, Section Twenty are the only force capable of confronting his deadly scheme.Strike Back: Vengeance is a heart-pounding, thrill-ride set across five electrifying stories. Section 20 are tasked with rescuing British hostages from a Somali warlord in Mogadishu; chasing an infamous al-Qaeda operative into a terrifying siege in the Algerian desert; turning a scientist concealing a deadly secret in Cape Town; diffusing a scheme to overthrow the government of Zimbabwe and finally countering a nuclear plot that will change the face of Africa forever. But when Knox and his generals attack the very heart of Section 20 and the private lives of its operatives: the fight becomes personal...
http://sky1.sky.com/strike-back/strike-back-vengeance-the-best-bits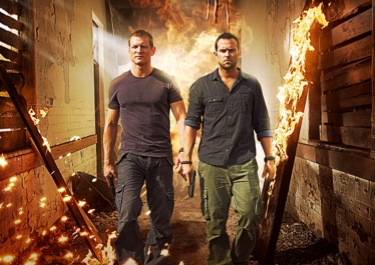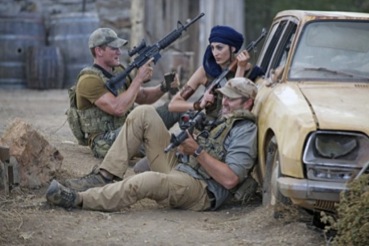 Strike Back 4: Eps 5 & 6
(2013)

Director: Paul Wilmshurst
Producers: Michael Casey, Chris Thompson
Writer: John Simpson
Exec: Andy Harries
DoP: Mike Spragg
Editors: John Richards, Andrew McCritchie
2 x 60 mins, 35mm
HBO/Cinemax & SKY
with Philip Winchester, Sullivan Stapleton, Catherine Walker, Patrick O'Kane, Francis Magee, Alexis Peterman

In the show's new season, counterterrorism unit Section 20 pursues a deadly terrorist network from Colombia to Beirut to Europe, uncovering deadly plots that reach to the West.
These episodes feature a lesbian assassin, an airport shoot-out, the capture and torture of Locke, and an IRA-inspired mortar bomb attack on the British Embassy in Budapest.