SEVEN WONDERS: BROOKLYN BRIDGE
(2003)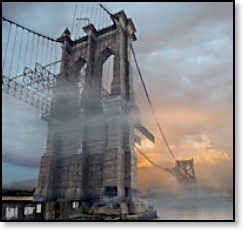 Writer/Producer/Director: Paul Wilmshurst
DoP: Chris King
50 mins, Digibeta
TX Autumn 2003
BBC Specialist Factual (Science)
Historical dramadoc telling the story of the design and construction of the Brooklyn Bridge. Using primary sources to create a gripping but historically accurate script, actors to play the engineers and workers, and a mixture of studio, location and CGI work to recreate the various stages in the construction of the Bridge, this shows how the bridge nearly destroyed the family of its creators.
Narrated by Robert Lindsay; with George Anton, Steven Berkoff, Kenneth Jay, Shane Rimmer, Donald Sumpter, Debra Weston
BAFTA
Nomination for Huw Wheldon Award for Best Factual Series or Strand 2004

RTS
Nomination for Best Science & Natural History Programme 2004
Seven Wonders of the Industrial World is a groundbreaking achievement. At last a style of drama documentary has been conceived that attains the artistry of great drama with the faithfulness demanded of the honest documentary... There aren't too many docudramas with a story sufficiently grand to justify Wagner as background music, but the building of Brooklyn Bridge is certainly one of them.

The Times
Read about the whole series
Buy Seven Wonders DVD
Find out more about Steven Berkoff
Visit Brooklyn Bridge website